Scrambling Time in the 2022 Egg Hunt!
A post announcing the Egg Hunt 2022: It's About Time event running from May 16th - June 5th!
---
This Event Has Ended
Hello! This blog post remains up as an archive of Brick Hill history, however the Egg Hunt 2022: It's About time event has now ended!
---
Hello Brick Hill Users, after much anticipated waiting the Egg Hunt 2022: It's About Time event has arrived and is available now until June 5th, 2022!
The Eggency requires your help as new Eggents to hunt and track down over 36 different eggs spanning across 5 different worlds, including some on-site objectives! To help you in your mission we have set up some tools for you to utilize, such as the Eggometer Compass to help guide you through all the different worlds about what progress you have, as well as our event page which displays more information about each world and it's eggs you'll need to crack down on.
To help you begin your mission, below is some details about each world and what you can expect when you're progressing through this lengthy eggventure!
---
Scrambled Isles
Welcome to Scrambled Isles, an island claimed by pirates in the hopes of finding lots of loot!
Your first target will be the pirate claimed set of islands known as the Scrambled Isles, here there is plenty of loot to collect! Including climbing up the large volcano in the center of the island to unlock the Molten Egg as well as exploring through the ancient temple in hopes to unlock The Kreggen!
Along your journey you'll also run into some pirates who can potentially give you more information about what has happened to the island, it's yours to discover!
---
Deadshell Desert
Make your way into the Deadshell Desert, a barren landscape filled with cowboys, tumbleweeds, and lots of mining!
Once you've managed to grab all the loot from the pirate island, get into your best cowboy gear and make your way over to the Deadshell Desert! A wild western map home to plenty of different areas to find lost eggs, such as working to dig up the Prehistoric Egg of Cracking Discoveries with Jane the Fossil Investigator or heading to the minds to strike the glamarous Ggeode.
The barren landscape is home to many whom may know a thing or two about this whole time travel craze, speak to them for more information, some may even have tasks for you!
---
Yolkshire Hills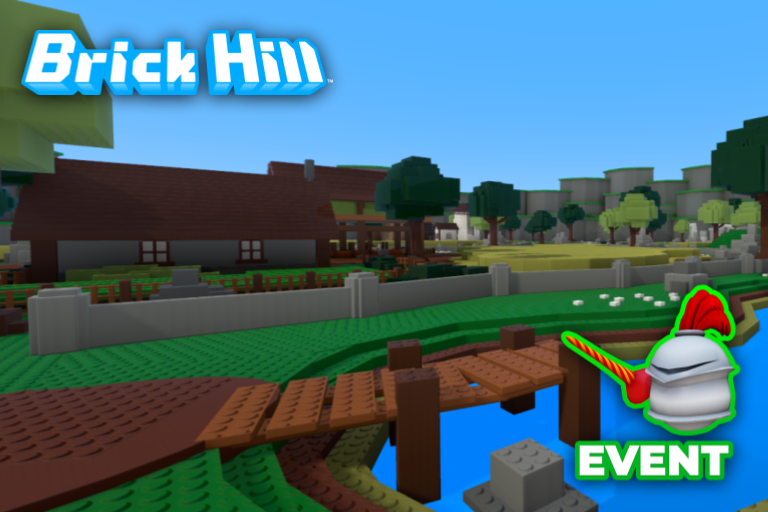 Explore Yolkshire Hills, a medieval village filled with lots of agriculture, royals, and.. the Pleggue? I'm sure it's no big deal..
Your next stop is here, the always sunny and vegatative Yolkshire Hills! Check out the medieval village where there's lots of royals, farming, and other fun hobbies! Watch out though, make sure to avoid player contact or you may catch that rampant Pleggue! While here, make sure to check out the king's castle he happens to have some fun games of Rock, Paper, Scissors going on, which you will need to win three times to get the Reggal Egg of Crowned Yolks.
The village is home to many different identities, make sure to check in with them, they may know more than you think!
---
Arctic Research Complex
You have been authorized to the Arctic Research Complex. An advanced underground laboratory filled with secret eggsperiments and very cold temperatures!
At last, you have reached the final destination! (for now) You have managed to sneak into one of Brick Hill's most prestegious laboratories, I'm not sure how. While you're in here you should work to get as many of the eggs they hold here as possible! Such as freeing the Power-Egg by disabling the reactors of the lab or sneaking through lab automatic security to collect the Robo-Yolk!
Remember, you're not supposed to be here! Keep a low guard, who knows what they are up to in here...
---
Now that you're all caught up on the worlds, you are ready to begin your mission! Start cracking down on those eggs! The future of Brick Hill may just depend on it..
To assist you, here is a progression chart that you can check off as you play the egg hunt!
Best of luck, Eggents!
P.S: This Event is only made possible thanks to these outstanding contributors, make sure to thank them! They may even be able to give you the exclusive Event Contributor Egg..